ONTARIO'S MOST A-MAZE-ING CORN MAZE!
Our 7 acres corn maze will get you hunting for the hidden mailboxes through the maze. The wide trails are stroller and wheelchair friendly. The maze can be completed in 3 different ways, the challenge is up to you!
ADVENTURE PARK
Our park has a variety of activities from mining for gems, racing your duck, racing on pedal karts, and flying high on the giant jumping pillow! Fun for all ages!
POPSILO
Ouimet Farms Adventure was created by two young artists, Emmanuel Jarus from Toronto and Zek One from Montreal. Both of these artists travel the world to create giant murals. In an initial meeting with the artists, Andre Ouimet owner of the farm, showed a photo of his father in his garden holding a hoe overlooking the mountains. Being that the theme of this mural was to represent youth, they all agreed that a young boy holding a pitchforks was the best suit.
Jarus returned home and went shopping for some overalls and a plaid shirt similar to what Andre's father was wearing in the photo. Adding a garden fork and ball cap became the starting point for a photoshoot with the perfect model for what was going to soon become the silo art. The result is amazingly beautiful.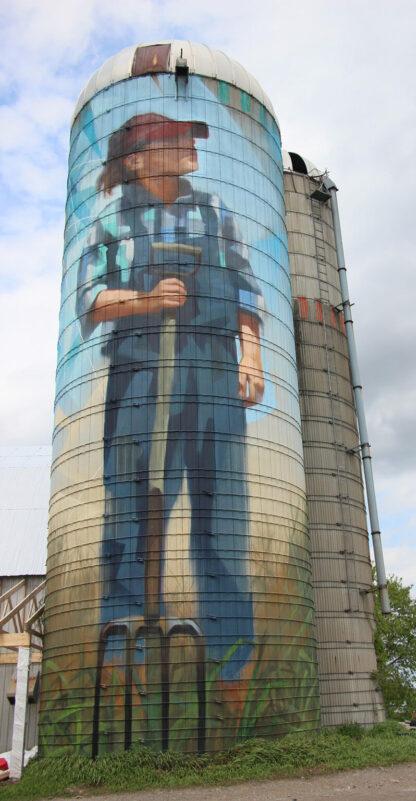 FARM MARKET AND MUSEUM
Our farm sells a wide variety of local products and our farm fresh veggies grown on-site! Inside of our barn we have a farming museum and a season exhibit that changes with the theme of the corn maze. Stop by the museum to see some unique artifacts and learn more about farming!
PUMPKIN PATCH AND SUNFLOWER FIELD
In the summer we have a golden sunflower field and in the fall we have a massive pick-your-own pumpkin patch! Don't miss out on these seasonal attractions!